Give you our clients the ultimate facial treatment with our advanced multi-technology facial device for treating anti-ageing, congestion and dull or pigmented skin.
HYDROPEEL: Uses a combination of three solutions to cleanse and smooth the skin using an AHA based solution. It hydrates and nourishes the skin using RH-Oligopeptide-I and Acetyl Hexapeptide base. Bacteria and inflamed skin are improved using a BHA solution. Vacuum action removes impurities from congested areas of skin.
EXFOLIATION: Exfoliation is via a single use capsule containing citric acid and sodium bicarbonate. When combined with glycerol, a foaming effect is created producing carbon dioxide which induces the release of oxygen from red blood cells. When oxygen is naturally released to the skin from inside the body, it results in a true oxygenation.
OXYGENATION: A lack of oxygen slows down cell metabolism, ages cells prematurely, reduces skin firmness and creates a dull complexion. 3D HydrO2 Facial will supply 25% oxygen and other specially selected ingredients to the upper layers of the epidermis and to increase blood flow, cell regeneration and help to minimise free radical damage. Some bacteria are unable to live in oxygen so the treatment can also have a positive effect on congestion.al infused products into the skin.

HYDRATION: After applying a hydrating mask, ultrasound technology is used over the top in order to infuse the product into the skin. Its thermal action has a stimulating effect on the blood flow and activates cell metabolism. The biochemical effects trigger a micro massage in the tissue which stimulates the formation of new collagen.
LED, LIGHT THERAPY UNIT Red with Infra-Red LED Light Therapy: Minimises erythema conditions of the skin and enhances skin rejuvenation through protein stimulation. Stimulates collagen production.
Collagen is responsible for the elasticity and firmness of your skin, resulting in the reduction of fine lines and wrinkles. Collagen is also the protein used to heal damaged skin cells.
What are the types of light therapy?
Red LED light spectrum is used to treat aging skin (wrinkles), reduce sagging, and burn fat.
Yellow LED Light Therapy: Soothes, stimulates lymphatic circulation, and minimises inflammation. Stimulates the production of red blood cells in the skin and is effective in treating abnormal pigmentation (hypo and hyper), improving lymphatic function, and stimulating circulation.
Green LEDLight Therapy: Improves epidermal pigmented lesions. Stimulates injured cells to product ATP and increase DNA and RNA activity. Green LED Therapy is used to treat dilated capillaries, sagging skin around the eyes, under eye circles, hyper-pigmentation (sun spots), and even sagging breasts.
Microcurrent Skin Lifting
What is microcurrent skin lifting?
Microcurrent Sculpturing stimulation delivers tiny electrical impulses that mirror the body's own natural bi electrical field. In most cases, treatment is virtually sub-sensory, with just a slight electrical tingling sensation. Originally developed for treating facial palsy.
What are the benefits of microcurrent skin lifting?
Re-educates muscles,
Increases blood and lymph circulation,
Enhances the penetration of the active ingredients of skin care formulations
Increases the production of collagen and elastin
Increases protein synthesis, gluconeogenesis and cell membrane transport
Increases mitochondria activity, adenosine triphosphate (ATP)
Micro-current in aesthetics is commonly described as "facial toning Or non surgical face lifting" due to the dramatic lifting effect that micro-current has on facial muscles and facial contours.
What is an oxygen facial?
With visible effects after just one treatment, the Oxygen facial is the celebrities favourite, including Madonna, Kelly Brooke, Patsy Kensit, Tina Hobley and Patsy Palmer.
The Oxygen facial treatment has been taken one step further to create the ultimate oxygenating treatment to revive face, décolleté and hands. Help combat the negative effects of every day life and pollution and inject a new lease of life into a dry or dehydrated complexion with this rejuvenating skin treatment.
How does an oxygen facial work?
The treatment uses a combination of oxygen and enzymes to resurface hydrate and regenerate the skin whilst improving oxygenation without the need of increasing blood supply and redness.
What results can you expect from an oxygen facial
For best results and for a lasting improvement to the regeneration of skin cells, a course of 6 weekly treatments is recommended, although a one off treatment will show benefits too.
Results can last for two-three months. Perfect for treating fine lines, wrinkles and dehydrated skin.
What is Microdermabrasion?
Microdermabrasion is a light cosmetic procedure that uses a mechanical medium for exfoliation to remove the outermost layer of dead skin cells from the epidermis. Most commonly, microdermabrasion uses two parts: an exfoliating material like crystals or diamond flakes and a machine-based suction to gently lift up the skin during exfoliation.
With visible effects after just one treatment, the Oxygen facial is the celebrities favourite, including Madonna, Kelly Brooke, Patsy Kensit, Tina Hobley and Patsy Palmer.
The Oxygen facial treatment has been taken one step further to create the ultimate oxygenating treatment to revive face, décolleté and hands. Help combat the negative effects of every day life and pollution and inject a new lease of life into a dry or dehydrated complexion with this rejuvenating skin treatment.
What are the benefits of Microdermabrasion?
Microdermabrasion is considered a safe treatment for most skin types. People might choose this treatment if they have the following skin concerns:
fine lines and wrinkles
hyperpigmentation, age spots and brown spots
enlarged pores and blackheads
acne and acne scars
stretch marks
dull-looking skin complexion
uneven skin tone and texture
sun damage
Galvanic and High Frequency Face Treatments
A Galvanic Facial treatment involves the use of electric currents to rejuvenate and stimulate the skin. Electrical Facial treatments are hugely in demand to improve the condition of the skin and minimise the effects of aging.
This treatment helps to facilitate the transport of important nutrients into the skin to improve circulation, cleansing, radiance and hydration. The Galvanic shows great results, it helps to smooth out wrinkles, increase the flow of blood and tighten muscles.
A Galvanic Facial involves the use of mild electric currents consisting of positive and negative ions to refresh, stimulate and rejuvenate the skin. It uses a process by the scientific name of iontophoresis to transport electrically charged particles (ions) into the skin through gels that are positively or negatively charged. The charged ingredients are carried into the deeper layers of the skin and concentrated there.
Micro current energy has been documented and studied for over a century, and galvanic treatments use very low-frequency impulses
The electricity triggers cellular turnover so that any damaged tissues can repair and heal quickly, and even though the procedure does not injure the tissues, it does 'trick' the cells so that they begin to undergo the healing process
One of the primary benefits of a Galvanic Facial is the improved oxygenation and circulation in the treated area. The Galvanic charge increases the efficacy of the products used during the treatment and brings an elevated level of nourishment to the skin. Galvanic Facials deeply cleanse skin of impurities that can cause a dull and lifeless appearance. This process happens when negatively charged ions draw and encapsulate toxins, preparing them to be removed. Phase two of the treatment pulls the encapsulated impurities from the skin by attracting them with a positive charge.
It can be used to:
Heal acne scars
Eliminate fine lines
Reduce or eliminate wrinkles
Get rid of superficial scars
Buff and tone up the skin
Reduce puffy eyebags or the appearance of dark circles
Tighten up loose skin Even out the skin tone
The High Frequency treatment is considered a timeless and essential skin rejuvenating treatment by those in the skin care industry. High Frequency has been shown to stimulate cell renewal. It improves skin care product penetration and absorption by gently warming the tissues of the skin.
High Frequency is a safe, gentle and oxygenating power of high frequency current that has been shown to enhance blood circulation, increase collagen, elastin production, eliminate toxins and acnecausing bacteria, encourage lymphatic drainage, exfoliate dead skin cells and improve skin care product absorption.
The High Frequency treatment is suitable for
All ages/skin types Germicidal effect, kills bacteria Quick healing of Acne Prevents Acne
Safe, no side effects & downtime In treating aging skin, High Frequency currents firm and tone by causing an immediate circulation rush to the skin in addition to subtle tissue warming.
These functions cause a very safe and natural contraction of the underlying blood vessels and tiny muscle groups
The dilation of the underlying vessels pushes away toxins, while the cells enjoy a feast of increased nutrients and hydrating volume.
This results in an increase in blood circulation and cell renewal as well as increased production levels of Collagen and Elastin which soften and smooth away wrinkles, reduce pore size and improve overall skin texture.
Our bespoke and tailored service, Pro Microneedling offers a clinically tested protocol which addresses dull skin, refines pores, targets hyperpigmentation, and softens fine lines and wrinkles. This micro-injury service is used alongside our NEW professional only formula, Pro Restore which you'll be given as part of your after care. This Pro formula helps strengthen the skin, reduce downtime, and amplify your results. Microneedling the Dermalogica way includes a unique combination of chemical peeling and an exclusive technique for more effective and dramatic results.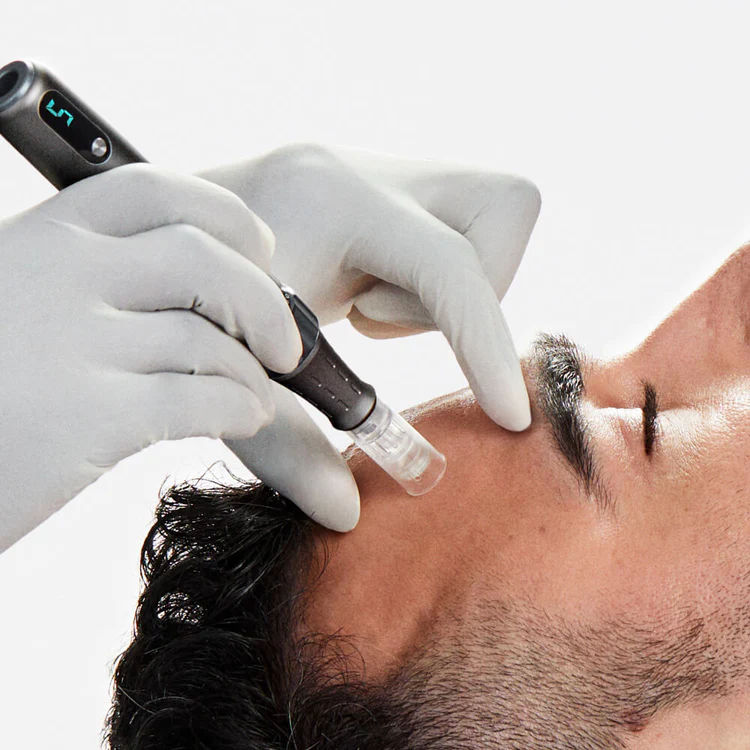 Experience peeling the Dermalogica way! A powerful skin resurfacing treatment to target skin texture, tone, wrinkles, and breakouts. Your Dermalogica expert will tailor the peel to suit your skin with a unique peeling system comprising of three different acids including Lactic Acid, Salicylic Acid and Glycolic Acid. Unlike your typical chemical peel with a one size fits all approach, our peeling system can be mixed and layered for exceptional results.